Audi Body Parts For Sale
We offer a full range of Audi body parts for anybody driving on the South African roads. We'll source the spares that you urgently need, no matter the model of Audi you drive! Contact us today and our friendly part department will be happy to help you!
Our Stock
Each month our scrap yard continually get accident damaged Audi's to strip for spares. All spares are shelved and ready for purchase. We also source our parts from quality suppliers ensuring your Audi  is only fitted with the correct body parts. 
We Deliver Across South Africa!
Our salavage yards deliver Audi spare parts across South Africa and Africa including: Zimbabwe, Namibia, Swaziland, Angola, Lesotho, Swaziland and Botswana. Only trusted couriers are used.
Sell Your Audi A4 For Parts!
Our Suppliers buy non-runners or accident damaged Audi's and sell them for parts. They will consider all vehicle types no matter how bad the damage. Contact us today should you wish to get cash for your car.
You Are In Safe Hands!
We have hand picked only the best junk yards who have a history of success as a result from their dedication that their team place on supplying the correct parts and services at the best prices.
Date

vehicle-year

Model

Engine

Requirements

2023-11-19 11:23:37 +00:00

2016

4 litre

Front end for A8, bumper bonnet fenders cradle oil cooler

2023-11-19 11:23:36 +00:00

2016

4 litre

Front end for A8, bumper bonnet fenders cradle oil cooler

2023-11-18 16:40:28 +00:00

1996

4.2 V8

Looking for a coil pack on 1996 Audi 4.2 Quattro V8 engine code is ABZ

2023-11-18 05:40:38 +00:00

2012

Looking for the gearbox of an audi A1 2012

2023-10-26 18:41:15 +00:00

2000

4.2 V8

Hey guys,

I'm looking for the left rear window for a 1999-2002 Audi A8. These cars were fitted with double glazed glass so I'm not sure if the glass from the pre facelift cars will fit but if you have a left rear door glass you will see if it is double pane or not.

I'd appreciate it if you could let me know if you have one.

2023-10-25 13:16:03 +00:00

4.2

Looking for a starter on audi 4.2 v8 engine code is ABZ

2023-10-18 10:23:55 +00:00

2015

3

I need Front bumper, Front LHS Fender, Bonnet, Mud cover over the LHS Fender, Front LHS small grill cover

2023-10-07 05:45:11 +00:00

2017

3.0

Front left fog cover and aircon switch

2023-09-29 08:12:09 +00:00

2006

2.0lt

Need complete engine harness

2023-09-25 09:00:51 +00:00

2009

2.0t

Looking for quotes of specific parts
Audi's Stripping For Spares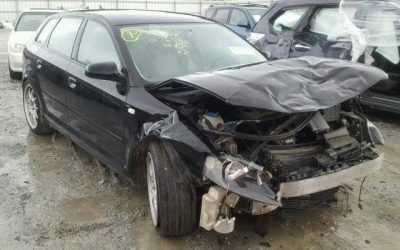 Now stripping a 2008 Audi A3 2.0. Contact us for any part enquiries. Complete Engine Gearbox Suspension Parts Lock Set: CAS, Key, Computer Box Radiator Set: Radiator Fan, Radiator AC Condencer, Intercooler,Heat Exchanger, Water Pipes Interior Parts: Dashboard, Central...