Used Audi A1 Spares For Sale
A Local South African Scrap Yard, selling used and new Audi parts. 
FIND YOUR PARTS
Audi A1 Parts For Sale
We offer a full range of used Audi A1 spares and aftermarket parts driving on the South African roads. Whether you need spare engine parts, gearboxes, turbos or body parts, our friendly sales team will be glad to assist you!
Our Stock
Our Audi scrap yard team are continually stripping accident damaged Audi's for spares. All parts are shelved and ready for purchase. We also source our parts from quality suppliers ensuring your vehicle is only fitted with the correct aftermarket replacement parts. Buy engines, suspension parts, bumpers, doors, rims, electrical parts, windscreens, wiper motors, window regulators, indicators, ignition switches, camshafts, tie rod ends, break calipers, crankshafts, gaskets, headlights and more!
Latest Audi A1 Part Requests
Date

vehicle-year

Model

Engine

Requirements

2022-06-06 18:35:31 +00:00

2011

A1

1.4

Hi i need the hot and cold air selector motor on a audi a1 2011 model

2022-06-06 10:56:17 +00:00

2011

A1

1.2

Conrod for Audi A1 1.2 2011 model

2022-06-06 06:58:29 +00:00

2013

A1

i am looking for a passenger side visor for 2013 audi A1 visor

2022-06-04 20:44:59 +00:00

2015

A1

1.4

Looking for a boot parcel shelf for a 2015
Audi A1 2door Sportback.

2022-05-25 12:33:17 +00:00

2012

A1

1.2

Headlight washer

2022-05-04 08:49:45 +00:00

2011

A1

1.4

i AM LOOKING FOR A GEARBOX

2022-04-25 07:55:50 +00:00

2016

A1

1.1

Control arm

2022-04-19 16:49:40 +00:00

2014

A1

1.4

Need rear driver fender for A1 2014.

2022-04-04 15:43:01 +00:00

2012

A1

1.6tdi

Rear defuser

2022-04-03 07:34:13 +00:00

2013

A1

1.4

Hi there am looking for rear of the above car
About The Audi A1
The Audi A1 I was presented for the first time in early 2010. The five-door version was called A1 Sportback .
A studio preview of the first Audi 50 city since it was presented in Tokyo in 2007. The prototype was named Audi Metroproject Quattro. Three years later, a production variant of the car with the factory code 8X was presented at the Geneva showroom. The serial variant is based on the PQ25 platform shared with Volkswagen Polo and Seat Ibiza. At the end of 2011, the Sportback variety was introduced in Tokyo, which went on sale in mid-2012.
On February 12, 2014, Audi presented the sporting A1 variant – the S1 and S1 Sportback models. Both cars are powered by 2.0 l TFSI gasoline with 231 hp and a maximum torque of 370 Nm. The S1 accelerates to 100 km / h in 5.8 seconds. – S1 Sportback in 5.9 seconds. The maximum speed of both models is 250 km / h. Compared to the standard A1, a number of changes have been made to the suspension. At the rear, instead of the torsion beam, a multi-link system is used. Others in front are, among others McPherson column bearings. The market debut of both models is scheduled for the second quarter of 2014. Both models went on sale in the second quarter of 2014.
In November 2014, Audi presented the A1 and A1 Sportback facelift models. The cars gained a stylized front strip – the appearance of the integrated bumper and headlights changed. The MMI control system with on-board Wi-Fi network is also new. A new three – cylinder diesel engine with a capacity of 1.4 l and 90 hp debuted in the palette of power units . During the facelift, the car grew by 2 cm .
For several years, Audi has been conducting research and testing of the A1 e-tron, a fully electric car, created for urban mobility. The electric motor transmits a maximum power of 85 kW and 300 Nm of torque to the front wheels via a single-stage transmission. From zero to 100 km / h, the car accelerates in 9.8 seconds, and its maximum speed is limited to 130 km / h. The T-shaped lithium-ion battery, 13.3 kWh of energy, provides a 50 km range in electric mode. Using a 230 V household socket, you can fully charge it in about three hours. In addition, a compact and lightweight Wankel single-rotor engine with 25 kW (34 hp) and 354 cm 3 capacity at the rear of the vehicle, increases the car's range to 250 km.
Related: Audi A3 Spares For Sale
We Deliver Across South Africa!
Our salavage yards deliver Audi spare parts across South Africa and Africa including: Zimbabwe, Namibia, Swaziland, Angola, Lesotho, Swaziland and Botswana. Only trusted couriers are used.
Sell Your Audi A1 For Parts!
Our Suppliers buy non-runners or accident damaged Audi's and sell them for parts. They will consider all vehicle types no matter how bad the damage. Contact us today should you wish to get cash for your car.
You Are In Safe Hands!
We have hand picked only the best junk yards who have a history of success as a result from their dedication that their team place on supplying the correct parts and services at the best prices.
Audi's Stripping For Spares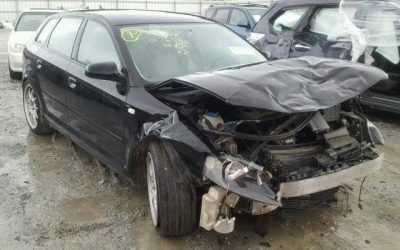 Now stripping a 2008 Audi A3 2.0. Contact us for any part enquiries. Complete Engine Gearbox Suspension Parts Lock Set: CAS, Key, Computer Box Radiator Set: Radiator Fan, Radiator AC Condencer, Intercooler,Heat Exchanger, Water Pipes Interior Parts: Dashboard, Central...
Past Customer Queries
Date

Customer Name

Model

Engine

VIN Number

Requirements

2022-06-06 18:35:31 +00:00

Christo Kasselman

A1

1.4

Hi i need the hot and cold air selector motor on a audi a1 2011 model

2022-06-06 10:56:17 +00:00

Tshepo Moropane

A1

1.2

Conrod for Audi A1 1.2 2011 model

2022-06-06 06:58:29 +00:00

josua

A1

i am looking for a passenger side visor for 2013 audi A1 visor

2022-06-04 20:44:59 +00:00

Sharon

A1

1.4

WAUZZZ8X8EB103470

Looking for a boot parcel shelf for a 2015
Audi A1 2door Sportback.

2022-05-25 12:33:17 +00:00

Thabang Motisi

A1

1.2

WAUZZZ8X1CB234026

Headlight washer

2022-05-04 08:49:45 +00:00

Siphiwe

A1

1.4

WAUZZZ8X3BB085617

i AM LOOKING FOR A GEARBOX

2022-04-25 07:55:50 +00:00

Peter

A1

1.1

Control arm

2022-04-19 16:49:40 +00:00

Quintin

A1

1.4

Need rear driver fender for A1 2014.

2022-04-04 15:43:01 +00:00

Johan

A1

1.6tdi

Rear defuser

2022-04-03 07:34:13 +00:00

Smangele

A1

1.4

WAUZZZ8X8DB013704

Hi there am looking for rear of the above car

2022-03-29 06:25:29 +00:00

Hilda hill

A1

WAUZZZ8X3FB030171

Looking for a wind mirror cover

2022-03-24 10:33:21 +00:00

Paballo Leboea

A1

1.0

• Bonnet
• Cragle
• Left Light
• Bumper
• Grill
• Stiffner
• Left bumper slider


2022-03-15 09:54:35 +00:00

sharon

A1

1.6

please call me. i have been trying on both your cell numbers. no answer

2022-03-07 20:46:48 +00:00

Wale Akinlabi

A1

Audi 1 202 model

2022-02-24 05:59:38 +00:00

JAMES

A1

1.4

WAUZZZ8X6DB083444

NONE

2022-02-17 07:59:32 +00:00

sipokazi

A1

1.2

WAUZZZ8X3CB247408

5K0820803J Compressor
5K0953569AL Elec Modul
Taillight

2022-02-09 10:15:02 +00:00

Jethro

A1

1598

wauzzz8x1eb100099

Looking for front complete bumper for an Audi1

2022-01-25 08:59:54 +00:00

Lameez Weels

A1

1l

WAU2228XXJB017748

Need passenger side front plastic cover (no fog light)

2022-01-20 18:43:38 +00:00

Shaakirah

A1

1

WAUZZZ8X2FB033059

Hi! I am looking for an aircon compressor.

Thank you.

2022-01-18 10:45:25 +00:00

JOHANNES BURGER

A1

1.4 tfsi

WAUZZZ8X6CB057831

I'm looking for body part

2022-01-17 13:22:20 +00:00

jack

A1

1.4 tfsi

I'm looking for xenon headligths for the A1

2022-01-17 10:22:29 +00:00

Thamsanqa Tyatya

A1

1.4

WAYZZZ8x9fb022897

I need gearbox for 2015 Audi A1 Automatic


2022-01-14 17:44:59 +00:00

Doris

A1

1.2

I'm looking for mechatronic for my A2 2012 Audi Model

2022-01-13 16:53:46 +00:00

Lethabo

A1

1.0

I'd like to enquire about availability of the left bumper and that black cover for a spot light

2022-01-13 16:53:45 +00:00

Lethabo

A1

1.0

I'd like to enquire about availability of the left bumper and that black cover for a spot light

2021-12-23 15:11:29 +00:00

Indhran Ramsamy

A1

1.8

Hi there I am looking to both sides tail lights,

2021-12-06 09:15:22 +00:00

Melany

A1

1L

wauzzz8x1gb071254

Right (Drivers) Side Mirror

2021-12-06 08:17:03 +00:00

Lwando

A1

1.6

I'm looking for gear linkage for Audi A1.

2021-12-06 06:40:47 +00:00

Jack

A1

1.4

Wauzzz8x0eb046343

I need all front components including bonnet and fenders

2021-11-30 14:07:00 +00:00

Sylvester

A1

1.2

Wauzzz8xxbb088904

I'm looking for are battery even if it's a second hand size AGM 800A

2021-11-24 18:29:04 +00:00

Francois

A1

1.4

Looking for front end parts and right front door


2021-11-23 11:05:59 +00:00

Mduduzi

A1

1.2

I'm looking for a manual gearbox for a 2012 Audi A1 1.2 TFSI

2021-11-20 04:15:46 +00:00

Patrick

A1

I want to buy mechatronic unit for my Audi A1
check with them Mechatronic unit for Audi A1 2015 year model

2021-11-17 13:07:20 +00:00

Mike

A1

1.6 TDI

Looking for a diesel fuel rail complete unit with the pressure sensor and pressure release valve

2021-11-08 20:21:29 +00:00

Matthew Kreeve

A1

2

000

Audi 80 (not current model) rear view mirrors - 2 please - thanks!

2021-11-05 08:42:58 +00:00

MANNY

A1

1.4 TFSI

wauzzz8x8hb019542

LEFT FRONT HEADLAMP

2021-11-05 08:41:14 +00:00

mannie

A1

1.4

wauzzz8x8hb019542

left front headlamp

2021-11-03 09:32:56 +00:00

Saadiq

A1

i am looking for a LHS front fog/spot light for Audi A1 2013

2021-11-02 09:46:10 +00:00

Francesca Beebe

A1

Looking for the lid for the center console

2021-10-31 17:29:06 +00:00

Pako

A1

1.4 TFSI

WAUZZZ8X3CB23986

Looking for:
Front Grille (Whole Set)
Front Right Wheel Suspension Parts (Whole Set)

2021-10-29 13:15:44 +00:00

Siyamtanda

A1

1

WAUZZZ8X7HB083202

Quote for left rear light

2021-10-29 13:15:42 +00:00

Siyamtanda

A1

1

WAUZZZ8X7HB083202

Quote for left rear light

2021-10-27 12:07:31 +00:00

Tyler

A1

1.4

WAUZZZ8X7CB218333

Searching for the multi media infotainment screen. Mine is cracked.

2021-10-22 18:08:28 +00:00

Musa

A1

I am looking for Audi A1 dashboard and steering airbag

2021-10-22 13:25:46 +00:00

Jan Heijnen

A1

1000

Hi There I need a steptronic for my 2015 Audi A1. can you help?

2021-10-21 20:44:01 +00:00

LUAN

A1

1390

WAUZZZ8X5EB107797

I NEED TO REPLACE MY STEERING WHEEL SENSOR

2021-10-21 17:13:45 +00:00

Masan Pansegrouw

A1

Hi I am contacting you with regards to parts of an 2019 Audi A1 sportback. I am interested in the electronics, computer box, cockpit electronics, ect. I'm basically looking for all the electric components of the car.

2021-10-16 12:17:58 +00:00

Ferowza

A1

1.2 TFSI

Hi, I'm looking for the backing board for the boot please - the part that "closes" the boot area and prevents people from seeing what's inside. I have a 3-door A1, but I tried the one from my mom's 2014 5-door A1 and it fits.

2021-10-14 14:40:42 +00:00

Jan-Hendrik Botha

A1

1.6 TDI

I am looking for a 2nd hand Audi A1 1.6 TDI engine for a 2013 model.

2021-10-04 14:01:04 +00:00

Sbonga

A1

1.0

WAUZZZ8X1FB027589

Hi

M looking for a clutch kit for 2015 Audi A1 sportback

2021-10-01 19:32:06 +00:00

Thomas Stuurman

A1

1.6

WAUZZZ8X8CB22336

Injector fuel return pipe


2021-09-29 11:34:42 +00:00

Nkululeko Madlala

A1

1.2

WAUZZZ8X9JB021206

I require front body parts for the vehicle as it was involved in front left smash.

2021-09-20 16:45:34 +00:00

Etienne

A1

1.0 tfsi

A1 17 inch wheel set required. 7,5J x 17 ET36 PCD 5/100.

2021-09-14 10:42:55 +00:00

Adriaan Kraftt

A1

1.4 TFSI

WAUZZZ8X5BB053090

LOOKING FOR ENGINE

2021-09-14 06:47:08 +00:00

Belinda Gildenhuys

A1

1.6

I am looking for a EGR sensor.

2021-09-04 05:29:41 +00:00

Calvin

A1

1.4 tfsi

WAUZZZ8X8CB002264

Good day. I am looking for the left front gearbox mounting on my audi a1 TFSI 1.4 2011 model

2021-08-28 21:03:28 +00:00

Linda

A1

1.4

Wauzzz8xxbb078079

Pls provide a quote/ quotes on cv joint and boot assemblies.

2021-08-27 12:09:32 +00:00

Lillian

A1

1.0

WAUZZZ8X2JB008154

I need the cover of the right side mirror of an Audi A1 Sportback 2017 model

2021-08-25 11:38:15 +00:00

Zola

A1

1.4

Wauzzz8x2bb09396

Good Day

I am looking for the 2nd hand computer box for my Audi A1,

2021-08-25 10:21:29 +00:00

Yolandi

A1

1.4

WAUZZZ8XXBB043980

URGENTLY LOOKING FOR THE ENGINE WIRRING HARNES PLEASE

2021-08-24 12:04:05 +00:00

Maria

A1

1.2

WAUZZZ8XXBB043980

Please quote and advise availability
Engine wiring harness

2021-08-17 11:54:39 +00:00

jm onderstall

A1

1600 TDI

Looking for a set of front brake pads
Part # FDB1309
Front Discs Part DDF927X

2021-08-16 11:20:14 +00:00

Claire

A1

1.4

WAUZZZ8X1EB087791

Quote please

2021-08-15 13:02:19 +00:00

Denvor Hendricks

A1

1.4 TFSI

WAUZZZ8XD1DB088003

Looking for replacement headset

2021-08-13 11:42:27 +00:00

Bongani

A1

1.6

WAUZZ8X5BBGP

Hi there, I need an oil pump .How much would it cost.

2021-08-11 07:22:54 +00:00

Dean

A1

1.6 tdi

Hi.
Looking for a Audi a1 Tow bar.

2021-08-11 05:36:13 +00:00

Sumayah

A1

I'm looking for a side mirror and casing for a silver Audi A1 please.

2021-08-09 08:41:42 +00:00

Karabo Nyembe

A1

1.4

WAUZZZ8X7BB069341

7 speed automatic gearbox price

2021-07-31 05:19:40 +00:00

Freddy Ndini

A1

1.4 TFSI

WAUZZZ8X6DB030498

Hi, I am looking for Dsg gearbox A1 1.4 TFSI 2013

2021-07-21 11:28:23 +00:00

Anele

A1

1.4

i am looking for an Audi A1 2018 non xenon right headlight

2021-07-19 19:33:05 +00:00

Thamsanqa Tyatya

A1

1.4

WAUZZZ8X9FB022897

Automatic

2021-07-13 05:10:47 +00:00

Dante Kruger

A1

1.4

WAUZZZ8X7CB242647

DASH BOARD STORAGE UNIT ( WHERE THE POPUP DISPLAY IN HIGHER MODELS ARE FOUND.

2021-07-06 10:59:50 +00:00

Samkelisiwe

A1

WAUZZZ8X8BB037482

I 'd like to make quotation

2021-07-02 19:16:18 +00:00

Simanga

A1

Good day I'm looking for Audi A1 body parties.


2021-06-29 18:37:30 +00:00

Kelly Jones

A1

1.6

Hi.
Looking for a steering angle sensor

2021-06-25 19:56:15 +00:00

Delon

A1

Right front door for an A1 it's a four door I just need the right front complete

2021-06-24 08:08:41 +00:00

Andre Siebritz

A1

Wau2228x1eb090710

Hi I'm looking for belly plates for the A1 sport line. 1.4 tfsi

2021-06-21 11:07:19 +00:00

michael clarke

A1

1.4 tfsi

need parts 2011 a1 3 door need left front door,
rear axle both front seatbelts left side curtain airbag and left front seat airbag thanks.

2021-06-15 07:31:24 +00:00

Jaco

A1

1.4

Wauzzz8x5db004376

Need to find heater flap motor

2021-06-14 11:46:02 +00:00

Anastasia

A1

1.0

WAUZZZ8X6JB042436

Headlight washer on the passenger side

2021-06-11 07:55:06 +00:00

Dick

A1

1.2

WAUZZZ8X2DB012807

Looking for a secondhand Throttle valve and timing chain in this vehicle

2021-06-09 03:36:18 +00:00

Sandile Ntshangase

A1

1.0

Front bumper

2021-06-08 07:26:26 +00:00

Tshilidzi

A1

1.4


Good day please need a intake pipe audi a1

2021-06-07 08:25:39 +00:00

Khulekani Mahlalela

A1

1.4

WAUZZZ8XXBB030257

I need a ABS UNIT/ ABS PUMP

2021-05-14 07:43:05 +00:00

Mike Auto Motive

A1

1.6tdi

need sensor on fuel rail on the right side of rail
CAY engine

2021-05-11 09:30:05 +00:00

clyde

A1

1L

WAUZZZ8X5HB067547

LOOKING FOR GEARBOX (SMJ)

2021-05-10 08:01:31 +00:00

Donovan

A1

1.4

Wauzzz

Good day please need a intake pipe audi a1 uses and polo part number 6c0 129 654 f

2021-05-03 05:18:59 +00:00

Khulekani Mahlalela

A1

1.4

WAUZZZ8XXBB030257

I need a price of a ABS pump unit
Part number 6R0614517AMBEF

2021-04-30 09:56:45 +00:00

Mashudu

A1

1.4

WAUZZZ8X4DB051012

Do you have used mechatronic

2021-04-29 14:27:17 +00:00

Noluthando Yende

A1

1.4

Hi,

Do you have an audi a1 3 door left rear body window?

2021-04-29 13:19:33 +00:00

Anastasia Molepo

A1

1.0

Looking for headlight washer on the left side

2021-04-26 10:04:54 +00:00

Celento Saunders

A1

1.6D

Looking for injectors

2021-04-26 07:13:27 +00:00

Keenan

A1

1.4

Looking for audi a1 grill emblem

2021-04-24 07:47:16 +00:00

Noluthando Yende

A1

Hi,

I'm looking for a left rear body window for a 3 door audi a1.

2021-04-21 10:18:38 +00:00

Johan

A1

1.4

Do you have a Audi A1, 1.4 TFSI engine?

2021-04-20 16:15:08 +00:00

Malose Tlouamma

A1

1.2

WAUZZZ8X0DB093421

Good day
I am looking for Lock Set, Onbpard Prower Supply and Fuel Pump (in the thank)

2021-04-20 09:10:54 +00:00

Jason Picot

A1

WAUZZZ8X7CB204898

Good day, I am looking for 2 Sunvisor Clips

2021-04-13 17:51:30 +00:00

Khulekani Mahlalela

A1

1.4

WAUZZZ8XXBB030257

ABS PUMP

2021-04-11 11:25:41 +00:00

Michael

A1

1.0 L

Hi I'm looking for a Front Grill for a 2018 Audi A1 Sport back please

2021-04-06 17:52:24 +00:00

HARRY

A1

1.4

WAUZZZ8X9BB092894

I'm looking for rear door,rear bumper and rear left light.

2021-04-06 09:34:11 +00:00

Lesego

A1

1.4

wauzzz8x9cb243332

Seeking a catalytic converter for Audi A1

2021-04-01 17:59:13 +00:00

Keletso Hlatshwayo

A1

1.6

WAUZZZ8X1CB028009

Cam belt quote please

2021-04-01 08:26:13 +00:00

Tumelo

A1

Like purchase an a1 boot door and a tail bumper

2021-03-28 17:05:23 +00:00

JSE Van der Merwe

A1

1.2 TFSI

Im looking for a audi A1 Sump second hand

2021-03-26 20:24:08 +00:00

Zakithi

A1

1.6

WAUZZZ8X9EB113442

I am looking for a spare wheel

2021-03-24 18:33:37 +00:00

Mmasenosi Jessica Lenkoe

A1

1

WAUZZZGB9LRO28255

Looking for an A1 2020 model front spoiler

2021-03-15 10:00:24 +00:00

Mmabatho Veronicca Baloyi

A1

Front grill

2021-03-09 17:27:51 +00:00

Zakithi

A1

1.6

I am looking for the Audi A1 Sparewheel

2021-03-09 12:02:46 +00:00

VENECIA

A1

1.4

WAUZZZ8X2EB030970

Good day

Please can you send me prices for
1. Front right fender line
2. Fog light cover R/L
3. Front spoiler


2021-03-09 10:32:11 +00:00

Johan Crous

A1

1.4

WAUZZZ8X7BB088441

ECU for A1 2011 model

2021-03-09 10:16:21 +00:00

Johan Crous

A1

1.4

WAUZZZ8X7BB088441

I'm looking for computer box (ECU) for Audi A1

2021-03-05 16:08:10 +00:00

Rene

A1

I am looking for a boot cover. The part that rolls put to cover things in the boot.

2021-03-04 16:10:19 +00:00

Ronan

A1

1.4

WAUZZZ8X2DB101406

Hi, I'm looking for a small rubber pipe that goes just under the engine cover as mine has cracked.

2021-03-01 18:00:59 +00:00

Pako

A1

1.4 TFSI

WAUZZZ8X3CB239986

Looking for Armrest for Audi A1 CAXB model year 2012

2021-02-27 11:31:09 +00:00

Pedre

A1

1.6

Looking for Audi A1 front and rear badges

2021-02-26 10:47:37 +00:00

obakeng

A1

pasel tray

2021-02-23 08:37:13 +00:00

Katlego Vuma

A1

1.4 TFSI

WAUZZZ8XXCB064877

Hi There

I currently looking for this part "VW 6R0 121 051G" Hose for my 2013 Audi A1. Kindly provide me with a quote if you have it in stock.

Kind Regards
Katlego Vuma

2021-02-23 05:10:47 +00:00

Katlego Vuma

A1

1.4

WAUZZZ8XXCB064877

Good Morning

I am looking a for a brand new "VW 6R0 121 051G" Hose for my 2013 Audi A1 1.4 TFSI. your urgent assistance in this regard will be highly appreciated.

Kind Regards
Katlego Vuma

2021-02-22 18:50:13 +00:00

mini

A1

1

na

audi a1 led right hand headlight for sale..

2021-02-19 09:08:30 +00:00

Chad

A1

1.6 tdi

Rear left light bulb holder.

2021-02-17 03:25:08 +00:00

Mashudu

A1

WAUZZZ8X4DB051012

Kindly send me used Mechatronic quotation

2021-02-16 11:58:16 +00:00

Lameez harabai

A1

2 door, so driver side door, and steering wheel

2021-02-15 10:50:48 +00:00

Rabs

A1

1.0

Want a bumper for an A1 2018 and a left headlight

2021-02-15 10:48:35 +00:00

Rabs

A1

1.0

Na

2021-02-08 18:01:58 +00:00

rudold

A1

1.6

I want Audi gearbox

2021-02-08 12:54:44 +00:00

Gert Kruger

A1

1400

wauzzz8x0DB058085

Light Control unite on the light not working

2021-02-01 09:42:11 +00:00

Martin

A1

1.0 FSi S Tronic

Im looking for a left side fog light grill cover. Please assist

2021-01-31 09:27:26 +00:00

Phodiso Letshelea

A1

1.4

WAUZZZ8XXBB054445

Please share prices for front panel, bonnet and left mirror

2021-01-28 12:47:20 +00:00

Jadene

A1

1.0

Hi - I am in need of the left washer whole cap cover in white.

2021-01-28 05:05:28 +00:00

Jaco Oberholzer

A1

1.4Tsfi

WAUZZZ8X3JB093036

Hi, I am looking for the RH and LH spot light covers/grilles and the bonnet liner.

2021-01-20 19:28:25 +00:00

Mbonisi

A1

1. 1

Looking for Audi A1 2018 washer bottle, spotlight rectangle shape and gear box cable

2021-01-19 13:09:13 +00:00

Palesa

A1

Wauzzz8x5b007900

Looking for the fog cover,bumper spoiler,sum cover

2021-01-12 07:43:11 +00:00

Cliff

A1

1.4

Leather covered centre armrest rest cover

2021-01-09 09:41:53 +00:00

Michael von Bardeleben

A1

Looking for a Locking Wheel Nut Key

2021-01-05 09:52:17 +00:00

Sarah

A1

WAUZZZ8X0CB031385

Roof racks for my car

2020-12-29 23:22:34 +00:00

Joseph Kilian

A1

1.4 tfsi

I am looking for the fuel pump control module

2020-12-29 02:04:05 +00:00

THOBELANI

A1

1.4

IM LOOK FOR A SUNROOF

2020-12-28 08:20:45 +00:00

SW SMITH

A1

CENTRE armrest for A1 Audi 2011

2020-12-28 08:02:49 +00:00

Richard

A1

1.4

WAUZZZ8X1BB050672

Rear Right Hand Side tail light. LED type

2020-12-27 08:38:37 +00:00

Jaco Oberholzer

A1

1.4Tsfi

Looking for complete front bumper, grille, lower radiator cradle, radiator with fans for a 2018 Audi A1 1.4 Tsi. Regards Jaco
0825649988

2020-12-25 18:33:47 +00:00

Frank

A1

1.6 TDi

I'm looking for a 1.6 TDi CAY engine please

2020-12-18 14:40:15 +00:00

KOOS

A1

1.6 TDI

WAUZZZ8X4CB010023

GOOD DAY ,Im looking for fuel rail pressure control unit or the complete fuel rail ,need quote

2020-12-15 06:43:39 +00:00

Simon

A1

1.2

WAUZZZ8X1EB139372

I'm looking for whole top system

2020-12-08 13:55:30 +00:00

Jacinta Richards

A1

1.6 TDI

WAUZZZ8X4EB056776

i am looking for an affordable clutch kit with flywheel. x please can someone get back to me asap x

2020-12-08 11:50:27 +00:00

Keanu Lee Muller

A1

1.4 tfsi

A1 foglight covers

2020-12-08 07:44:50 +00:00

Johann

A1

WAUZZZ8X0CB228671

Quote for DPF or injectors replacement

2020-12-04 19:02:54 +00:00

Hulisani

A1

1.2

Im looking for xenon headlights for Audi A1 2017 model 1.2 l.. Both left and right and also the the grill. How much will it cost

2020-12-03 09:43:50 +00:00

Ruan Kruger

A1

1.4TFSI

I please need to see if you guys have a computer box, part number 03C 906 016 BG for a 2012 Audi A1, and the cable that runs from the box to the motor, short one

2020-12-01 08:29:08 +00:00

Krishna

A1

2 door A1 Audi
Looking for rear tailgate glass only

2020-11-27 10:59:43 +00:00

Marshall

A1

1.4

WAUZZZ8X3GB002114

Looking for the rear left door handle cover.
Ashtray for cup holder.
Spare tyre for boot.
Plastic piece (left side) for internal boot floor holding it in position.



2020-11-26 09:21:20 +00:00

onicca

A1

1.2

I'm looking for Pistons for Audi A1 2011

2020-11-23 15:45:10 +00:00

Fumani

A1

1.0

WAUZZZ8X7HB028538

Can I get a price of a radiator for my car

2020-11-23 08:05:09 +00:00

Candice

A1

WAUZZZ8X0EB103933

Hi there,

Im looking for a parcel shelf/backboard for a 2014 Audi A1

2020-11-20 06:25:14 +00:00

Nick Leburu

A1

Audi a1 2020 tail light left

2020-11-17 06:08:12 +00:00

Patricia

A1

1.4

Front bumper
Bonnet
Left fron fender liner
Left fro t fender
Left front slide
Left front head light
Left front fog lamp
Rear bumper




2020-11-14 13:41:01 +00:00

Stefaans

A1

2.2

Audi enjine 5 cylinder 2.2

2020-11-13 12:47:51 +00:00

Matso

A1

1.0 TFSI ADVANCED S TRONIC (30TFSI)

WAUZZZGB0LR024157

I am looking for:
both right doors;
right tail light;
rear bumper.

2020-11-11 12:22:15 +00:00

Clement Swamlow

A1

1.2

Wauzzz8x0cb000248

Looking for strut axle and seatbelts

2020-11-11 10:33:03 +00:00

Simon Mathiga

A1

1.4

WAUZZZ8x5bb098465

Headlight bulb

2020-11-09 22:01:18 +00:00

Manie

A1

1.6 TDI

I am looking for an injector fuel rail (sensor) part v03l 130 764c

2020-11-09 11:15:25 +00:00

Joseph Willams

A1

dfd

4854

Hello,

How are you doing? Hope you are fine.

I have been checking your website quite often. It has seen that the main keywords are still not in top 10 ranks as per Search Engine Results Pages (SERP) & you have poor organic search traffic. We also detect some issues on your website. You know things about working; I mean the procedure of working has changed a lot.

So, Would you like to increase the leads / sales generated from your website?

Would you like to be listed at the top of every major search engine such as Google, Yahoo! & Bing for multiple search phrases (keywords) relevant to your products / services?

Would you like an abundance of laser targeted high quality visitors to your website every day?

We provide a complete solution for your Online Business need.
I would like to have the opportunity to work for you and this time we will bring the keywords to the top 10 spot with guaranteed period & bring huge organic search traffic.

Our Steps and the Activities to Rank You Smart
• Keywords Research
• Competition Analysis
• Optimized Content Creation
• Keywords Optimization
• Back Link Creation/Link Building
• Submission to Search Engines and Directories
• Submission to Article Directories
• Google AdWords Setup & Management Services
• Guest Blog Post Links
• Competitor Backlinks Create
We are a team of 100+ professionals which includes 18 full time SEO experts, 15 full time developer, 4 full time App Developer, 20 Full time content writer, 30 Marketing Executive, 8 Project coordinator. We are proud to inform you that our team handled 100+ SEO projects and many website design & development work. Each team is managed by a team leader.

If you are the right person & interested in our service then we'll send you website full audit report. So you can understand what works need to be done what not.

We will be glad to assist you with offering our services.

Contact us for the best quote for your website & we will help to Rank You top 10 position in Google ranking.

Looking forward to hear something from you soon....

Regards
Joseph Willams
Skype Us: net_twig
Call Us:0091 9330442191(Available on Whatsapp& Viber)


If you are the right person & interested in our service then we'll send you website full audit report. So you can understand what works need to be done what not.

We will be glad to assist you with offering our services.

Contact us for the best quote for your website & we will help to Rank You top 10 position in Google ranking.

Looking forward to hear something from you soon....

Regards
Joseph Willams
Skype Us: net_twig
Call Us:0091 9330442191 (Available on Whatsapp& Viber)


2020-11-03 12:44:33 +00:00

Siyabonga

A1

1.4

Looking for A1 2011 model left tail light

2020-10-26 11:32:34 +00:00

barry

A1

1.4

looking for leftside tailight for 2015 Audi A1

2020-10-21 12:43:24 +00:00

Rickard

A1

WAUZZZ8X5CB245594

I'm looking for a Right Front door

2020-10-16 14:53:36 +00:00

lulama Maqhajana

A1

1.2

CBZ

I am looking for turbo charge

2020-10-14 08:51:06 +00:00

Cosmas Muyunda

A1

WAUZZZ8XXJB083135

Headlamp for Right Handside

2020-10-12 10:54:17 +00:00

phile

A1

1.0

WAUZZZ8X3GB054410

looking for a right handside rear tail light

2020-10-07 05:46:29 +00:00

Jody

A1

Spare tyre

2020-10-06 14:27:33 +00:00

Zaheeda Tshankie

A1

WAUZZZ8X2CB248114

Hi there, we need a Turbo Actuator for our Audi.

2020-10-01 13:46:57 +00:00

Lebo

A1

1.4

WAUZZZ8X8BB102380

Im looking for a mechatronic unit for above mentioned car

2020-09-28 09:30:49 +00:00

Wayne

A1

1l

A1 radiator grill and R/h bumper grill

2020-09-25 03:45:11 +00:00

Alfred

A1

1.6

WAUZZZ8X3HB087909

I need right front door for A1

2020-09-22 17:57:23 +00:00

Christian Magiel Minnaar

A1

1.4 tfsi

Good day. Can you please assist. I'm looking for an S1 rear diffuser and S1 leather seat front & back. Please email me the prices if you are able to assist.
Thank you

2020-09-18 06:26:36 +00:00

Abia Kgokane Baggio

A1

1.4 tfsi stronic

WAUZZZ8X4CB220220

um looking for body control unit part nr: 8x0907063G

2020-09-16 12:06:45 +00:00

Atiya

A1

1.4 TFSI

WAUZZZ8X8DB112409

2013 A1 1.4 TFSI s-line

2020-09-15 22:57:26 +00:00

Musa

A1

1.2

WAUZZZ8X8EB065416

I'm looking for a right fender, right control arm, right rack end, rear and front shocks right fender liner and right mirror cover

2020-09-15 13:35:28 +00:00

theresa

A1

need the entire front light unit replaced. Xenon

2020-09-14 11:09:32 +00:00

Brian

A1

1.4tfsi

WAUZZZ8X0BB050338/CAX708810

Looking for an ABS pump

2020-09-08 14:33:05 +00:00

TRACY

A1

2 litre

WAUZZZ8P57A068850

Looking for lefthand side taillight on the fender

2020-09-07 06:33:29 +00:00

Johan Haasbroek

A1

1.4

WAUZZZ8XXEB131853

Good day
i would like to know if you have the cruise control module for my car .

2020-09-04 07:08:48 +00:00

Musawenkosi Sokhela

A1

1.2

WAUZZZ8X8EB065416

Right fender

2020-09-02 07:58:14 +00:00

JOSE

A1

1.4

WAU2228X1BB070873

I want to know if you have the left Tail Light for sale for AUDI A1 and how much in ZAR.

2020-08-31 10:29:37 +00:00

Dennis

A1

I am looking for a rear axel for a 2014 Audi A1

2020-08-29 12:30:45 +00:00

Raymond

A1

1.4 TFSI

WAUZZZ8X0BB029649

Quotation for the gearbox and the quote for mechatronic

2020-08-28 11:53:41 +00:00

Albert

A1

1.4

Left front door shell needed urgently

2020-08-19 07:23:40 +00:00

Maanda

A1

1.2

I need a hooter connect

2020-08-12 19:33:48 +00:00

marcian minnaar

A1

Can you please give me a quote on the following.
A1 Honeycomb grill, S1 leather seats, front and back that can fit into a A1 Sline 2012 136kw and if you can find one, a A1 quattro sportback body kit please.

2020-08-11 12:42:46 +00:00

Shaneil Dinna

A1

1.4

WAUZZZ8X9DB001805

Looking for right side spotlight cover for audi A1 2012 model

2020-08-04 10:27:46 +00:00

Storm

A1

1.4T

N/a

Need grill cover for front number fog light

2020-08-03 10:19:32 +00:00

Sam

A1

1.6

Wauzzz8x3bb091837

Please note I am looking for a full turbo on a 2011 Audi A1

2020-07-13 16:29:55 +00:00

Brian Mujokoro

A1

1.4tfsi

WAUZZZ8X0BB050338

Car radio (entire system)

2020-07-10 08:32:22 +00:00

Jananda

A1

1.2

WAUZZZ8XXEB062002

need price on new engine

2020-07-07 09:36:53 +00:00

Brian

A1

1.4tsfi

Hi, I want to replace my radio as it's no longer working. So how much is a new radio?

2020-07-03 07:44:43 +00:00

Billy Venter

A1

looking for the little storage compartment that is on top of the dashboard for a 2013 A1

2020-06-27 21:12:02 +00:00

Mafika

A1

Turbo for an A1 2013 model automatic

2020-06-25 18:29:14 +00:00

Ivan

A1

1.4

Wauzzz8x

Bonnet ,Rh headlamp xenon ,Grill,

2020-06-24 12:47:27 +00:00

Michelle Kellerman

A1

1.2

I need a tail light (right side). Audi a1 2013 model

2020-06-21 15:45:29 +00:00

Ayanda

A1

WAUZZZ8X8BB046439

Hi,

Please quote me for a turbo.

Thank you



2020-06-19 10:26:35 +00:00

Piet Watson

A1

1.4 tsfi

WAUZZZ8X7BB029972

Radiator Fan Assembly Single
R/side Headlight Xenon

2020-06-16 09:38:10 +00:00

Frans Bale

A1

1380

CAXB27062

RIGHT LEAF SPRING AND MOUNTING. BOTH CALLIPERS AND DISCS IF YOU HAVE SEND QUOTE PLEASE

2020-06-16 09:19:14 +00:00

Frans Bale

A1

1380

CAXB27062

I WANT A RIGHT FRONT SPRING AND MOUNTING

2020-06-10 15:16:03 +00:00

raymond

A1

1.2

WAUZZZ8X1CB061656

throttle body

2020-06-09 16:22:48 +00:00

Sindi

A1

1640kg

WAuzzz8x3cB235663

My audi a1 had mechatron failure and i need replacement hence the old one was stolen by some guy who claimed he will fix it.

2020-06-07 09:25:12 +00:00

Oscar

A1

1,4

WAUZZZ8X8BB097228

A1 2011 MODEL TFSI 1,4 ECU FOR PETROL

2020-06-05 16:01:54 +00:00

Musawenkosi Sokhela

A1

1.2

WAUZZZ8X8EB065416

Audi rear shocks and front

2020-06-02 14:04:34 +00:00

Jc moore

A1

1.4 tfsi

Good day

In search of a few items for a 2011 A1.
#RS honeycomb grill
#sunroof sun-blind/visor
#armrest top lid
#S1 foot pedal

Kind regards

2020-04-17 13:47:43 +00:00

Jaco Groenewald

A1

1.2

WAUZZZ8XXCB062496

Hi, I need a throttle body, mine has got a faulty TPS.
New, if you have?

2020-04-16 15:25:25 +00:00

Musawenkosi Sokhela

A1

1.2

WAUZZZ8X8EB065416

Hi I'm looking for Audi A1 shocks

2020-03-12 10:47:23 +00:00

zablon

A1

1.4

WAUZZZ8X0DB038287

I am looking for the rear bumper of AUdi A1 with S-line plus side skirts

2020-03-12 10:44:58 +00:00

zablon

A1

1.4

WAUZZZ8X0DB038287

I looking for the rear bumper for the Audi A1 S-line

2020-02-24 14:30:11 +00:00

Hindie

A1

1.4

Looking for the multimedia Unit for Audi A1 2012 please

2020-02-13 15:26:43 +00:00

Simphiwe

A1

1,4

WAUZZZ8X0CB033492

Looking for a front switch wiper and a ABS modulelator